Sturgeon Heights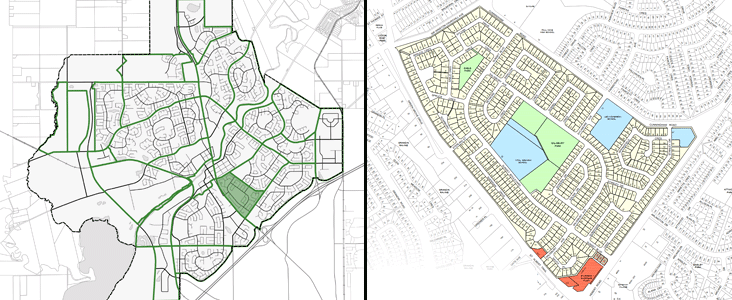 Nestled into the east side of St. Albert is the neighbourhood of Sturgeon Heights. From the start, Sturgeon Heights was developed as an inclusive community, with lots being zoned for high, middle, and low-income earners. This community started the bulk of its development in the 1950s, around the same time that St. Albert decided to name instead of number its streets. Did you know that all of the streets and avenues in Sturgeon Heights start with the letter "S"?
Sturgeon Heights is among the smaller neighbourhoods in the city, with a population of ~1814. The residents are on the younger side, with an average age of 39.80. Most of the neighbourhood is comprised of low-density housing with just a small corridor of medium density residences located near a commercial development. The average home price is $320,000. Two schools and two green spaces are located within this community.
St. Albert Transit (StAT) services Sturgeon Heights with weekday local routes, access to weekday commuter routes to Edmonton, and Dial A Bus.
About Sturgeon Heights
---
Development began: 1950s
Type of homes: Single detached homes, apartments, condos, and townhouses
Parks in the area: Salisbury Park, Sable Park
Schools in the Area
Elementary: Leo Nickerson, Muriel Martin, Ronald Harvey, Sir Alexander Mackenzie
Secondary: Lorne Akins; Paul Kane, St. Albert Public Outreach High School
Characteristics
Mainly comprised of single-family homes
Home to Seymour Crescent, which is named for St. Albert's first policeman, Ernest Seymour
Located across from the historic location where Father Lacombe built the Chapel
The majority of the development took place in the 1950s, making this a mature neighbourhood
History
Just across from the Sturgeon Shopping Plaza and on the southern boundary sits Sunnyside Crescent. It may not look like it now, but this is a historic location as it was the site of the first home built in the area that would later become Sturgeon Heights. This home was built in 1936, long before the building boom the community would experience in the 1950s.
Sturgeon Heights is unique because, during its most prolific years of development, City Council sought to attract residents from all levels of the socio-economic ladder. Therefore, Zone A consisted of homes for the upper class, Zone B had homes for middle-income earners, and Zone C appealed to the lower-income class. No matter where they stood economically, everyone in Sturgeon Heights was treated to a beautiful and progressive development that was steps away from both nature and amenities.
Today Sturgeon Heights remains known as a highly desirable neighbourhood with beautiful lots, mature trees, and where everyone feels right at home.