Pineview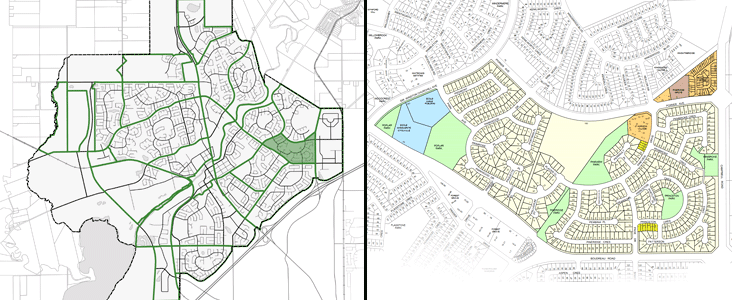 As the 1970s wound down, the population boom in St. Albert slowed. There was still a need for development as demand for housing was still high, but there was a less pressing need to build quickly and more time could be devoted to innovative planning. This is why Pineview, a small neighbourhood on the northeast side of the city, is characterized by a unique, scenic look. The central region of the neighbourhood is not fully developed; Pineview was designed with room to grow.
A small community, Pineview has ~1,750 residents with a median age of 43.9. Residents that move to Pineview stay, on average, for 10 years or more, giving this neighbourhood one of the highest tenures in the city. Housing is largely single family homes in the $340,000 range with medium density residential concentrated on the north side. Five parks are dispersed throughout. Pineview is flanked by Campbell Road, Sir Winston Churchill Ave, Boudreau Road, and Poirier Ave, which makes commuting easy.
St. Albert Transit (StAT) services Pineview with weekday local routes, access to weekday commuter routes to Edmonton, and Dial A Bus.
About Pineview
---
Development Began: 1970s
Type of homes: Single Family, Townhouses
Parks in the area: Popular, Pineview, Pembroke, Princeton, Pineridge
Schools in the Area
Elementary: Elmer S. Gish, Leo Nickerson, École Marie Poburan
Junior High: Lorne Akins, École Secondaire Sainte Marguerite d'Youville
High School: St. Albert Public Outreach High School, Paul Kane (for French immersion only)
Characteristics
Beautiful, nature-filled community
Mature, established neighbourhood with room to grow
Easy access to major routes
History
It was easy to name Pineview. In fact, when it came time to name this community, Pineview was the only name considered. With the abundance of nature throughout this neighbourhood, Pineview was the "natural" choice!
As with most of St. Albert's neighbourhoods, Pineview started out as farmland. Development started in 1979, and two schools were added in the 1980s. Unlike many of the neighbourhoods developed during this time frame, Pineview's core features a large patch of yet-to-be-fully-developed land. Council has classified this land as an urban reserve. Time will tell how it develops in the future.
Life may seem a bit less rushed in this neighbourhood. Maybe it's the winding walking paths or the roomy parks. Perhaps it's the large urban reserve that proves Pineview isn't in a hurry to expand, despite development taking place on all sides of the community. Whatever the reason, it's the place to live when you want city life, but at a more relaxed pace.