Mission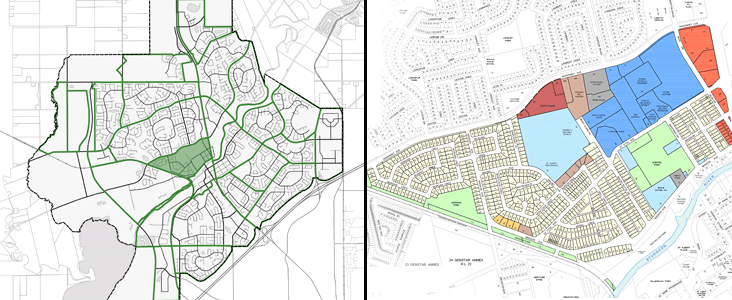 St. Albert wouldn't be the city it is today without the neighbourhood of Mission. In the 1860s, Father Lacombe and Bishop Taché stood on a hill overlooking the Sturgeon River and pointed out the place for a new mission. The chapel, which was built in 1861 and is now the city's oldest building, was established. Métis families moved in from Lac Ste. Anne, and the settlement of Mission was born.
The city of St. Albert would grow around it's first neighbourhood, giving Mission it's current central location. The community has ~2,400 residents with a median age of 55.40. A healthy mix of low and medium density housing, along with commercial services, schools, and parks makes Mission a very well-rounded and accessible neighbourhood. With plenty of condos available along with single family homes, real estate for some properties in Mission is in the $250,000 range.
St. Albert Transit (StAT) services Mission with weekday local routes, access to weekday commuter routes to Edmonton, and Dial A Bus.
About Mission
---
Development Began: 1860s
Type of homes: Single Family Homes, Townhouses, Duplexes, Condos
Parks in the area: Mission Park, Morgan Park
Schools in the Area
Elementary: École Father Jan, Ronald Harvey, Muriel Martin
Junior High: William D. Cutts
Secondary: Vincent J. Maloney; St. Albert Catholic High School, Bellerose, St. Albert Public Outreach High School, Paul Kane (for French immersion only)
Characteristics
Close to the St. Albert Grain Elevators/Museum and train tracks
Oldest and most historic neighbourhood in St. Albert
Lots of walking trails
Close to downtown shopping, rodeo grounds, and Mission Park (tobogganing and fireworks)
History
The St. Albert you know and love started with Father Lacombe and Bishop Taché's desire to establish a mission near the banks of the Sturgeon River. The next few years would be remembered as ones of both tribulations and triumphs.
Things started well enough with several Métis families moving to the area to help launch the settlement, followed by several nuns and orphans a few years later, necessitating the need for a covenant house and a school. However, tragedy would strike the fledging community in the form of smallpox. The disease decimated the population, killing about half of the residents. The community showed its pioneering spirit and began to bounce back. By the 1890s, village status was obtained, and by 1904, St. Albert became a town.
Development continued over the next decades with schools, homes, infrastructure, and a cemetery taking shape. Today the neighbourhood of Mission is a serene oasis in the middle of the city where one can see tangible reminders of how the story of St. Albert began.