Jensen Lakes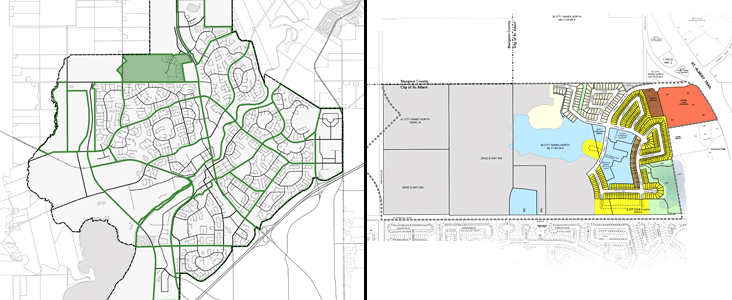 Jensen Lakes is located west of St. Albert Trail and north of Villeneuve Road. This area is known for beautiful scenery, luxurious living, and for being the only beach neighbourhood in St. Albert. Much of Jensen Lake real estate is centred around year-round recreational activities. Beautiful beaches, walking trails, parks, ponds, a private sandy beach, and a club house are what residents can look forward to when purchasing a home in Jensen Lakes.
Options for every price range and home style exist in Jensen Lakes, including estate homes, single family, townhomes, and duplexes. As a luxury community, single family homes are in the $500,000s. Residents have access to nearby commercial services.
Development continues in this new neighbourhood. As the residential areas and lake are completed, residents can expect docks at the beach club, private docks for each of the lake lots, and semi-private docks at private walkway access points.  A swimming area and dock will be located just off the main sandy beach area.  The lake may be stocked with fish for both summer and winter recreational fishing.
As of 2018, Jensen Lakes had 225 residents with a median age of 29. St. Albert Transit (StAT) does not currently service Jensen Lakes.
About Jensen Lakes
---
Development began: 2010s
Type of homes: Estate, single-family, townhomes, duplexes
Parks in the area: Joyal Park
Schools in the Area
Elementary: Joseph M Demko, Sister Alphonse Academy, Muriel Martin
Junior High: Joseph M Demko
High School: St. Albert Public Outreach High School, Paul Kane (for French immersion only)
Characteristics
Sandy beach
Tree-lined boardwalk, and 5 km of landscaped pathways
40 acres of parks and open space, and year-round recreational activities
New community with a young population
History
Beautiful sandy beaches are not what one thinks of when considering where to move in St. Albert, but thanks to Jensen Lakes, a local beach is now a reality.
Development started in 2014. Once the lake is complete, it will contain 6,000 tonnes of sand and 400,000 cubic metres of water and rocks that are being brought in from Moyie and the Kootenays in British Columbia.
Jensen Lakes is a modern development focusing on greenspace, parks, and sustainably built luxury homes.