Inglewood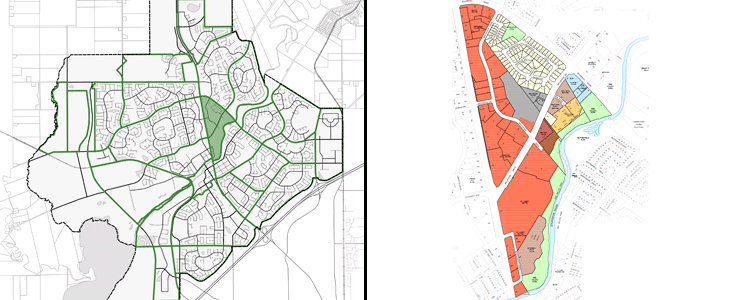 Inglewood is a very interesting neighboured that is atypical of the other communities within the city. A small population of residents are nestled between the Sturgeon River and Red Willow Park on one side, and large commercial corridor on the other.
Sitting in the upper centre of the City, Inglewood has a small population of ~1,490, with a median age of 47. This neighborhood is known to have shorter tenure than other neighbourhoods that were established in the 1980s, perhaps due in part to the fact that most of the community is zoned commercially. A small section is zoned as low density residential, with some housing in the medium residential zones.
There are two greenspaces, but no schools directly in Inglewood. However, a large mall, St. Albert Centre, and quick access to Boudreau Road, makes this neighbourhood desirable for those wanting to be close to shops and services.
St. Albert Centre has allowed a portion of its parking lot to be used by those accessing the bus exchange at the mall.
About Inglewood
---
Development Began: 1980s
Type of homes: Condos, Townhouses
Parks in the Area: Red Willow Park; Ironwood Park
Schools in the Area:
Elementary: Keenooshayo, Leo Nickerson
Junior High: Lorne Akins 
High School: St. Albert Public Outreach High School, Paul Kane (for French immersion only)
Characteristics
Close to downtown shopping and amenities
Home to Firehall #2, RCMP Detachment, Inglewood Town Centre, St. Albert Centre, St. Albert Square and Summit Centre
History
Development of Inglewood started with St. Albert Centre and Red Willow Park in the 1980s. More commercial development continued during the 1990s, and the first residential homes also began to appear during this time. In fact, for awhile St. Albert Centre stood out as "lone wolf" on the edge of town, but now shops, services, and homes have filled in the areas around it.
Despite its smaller size and population, Inglewood is bustling, exciting, and essential to St. Albert as it is also the home of an RCMP detachment, fire department, food bank, and community village.
Today Inglewood is known as a busy little hub that is perfect for anyone that wants to live in the thick of the action.