Grandin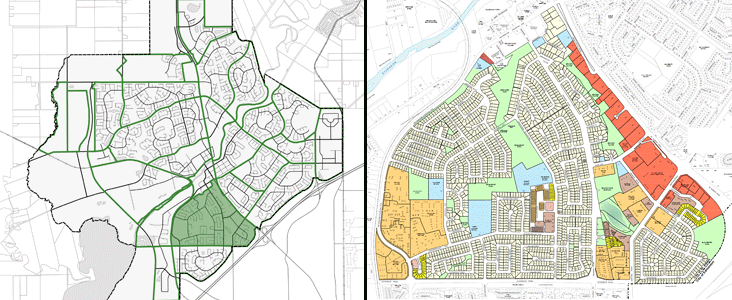 Grandin sits on the lower south side of St. Albert and has the distinction of being one of the oldest and largest neighbourhoods in the city. A population of ~7,300 with an average age of 42.40, Grandin residents enjoy the options of low or medium density housing zones, along with a large commercial corridor. Numerous parks and schools are found throughout the community.
Residents and newcomers to this neighbourhood enjoy solid real estate values; homes are currently retailing in the $300,000s, and a mix of single family, townhouses, and condos means everyone can find the home that best suits them and their family.
St. Albert Transit (StAT) services Grandin with weekday local routes, access to weekday commuter routes to Edmonton, and Dial A Bus.
About Grandin
---
Development Began: 1950s
Type of homes: Single Family, Condos, Townhouses
Parks in the area: Grosvenor, Grenadier, Grandin Ravine, Glenwood, Gatewood, and Grandin Pond EcoPark.
Schools in the Area
Elementary: Leo Nickerson, Vital Grandin Catholic School, Robert Rundle, Wild Rose, and Albert Lacombe Catholic School.
Secondary: Sir George Simpson
High School: St. Albert Public Outreach High School, Paul Kane (for French immersion only)
Characteristics
Mature neighbourhood
Lots of trails, parks, green spaces
Home of St. Albert's only outdoor pool – Grosvenor Outdoor Pool
Close to the Anthony Henday
History
The neighbourhood of Grandin owes its name to Justin-Vital Grandin, a Roman Catholic priest, Oblate of Mary Immaculate, and bishop. His parents, Jean Grandin and Marie Velliard, were hotel keepers and farmers in St. Albert. Grandin was a pivotal figure in the late 1800s Catholic Church because he held deep concerns that those in the Department of Indian Affairs at the time were discriminating against the Indigenous population. He pushed for formal, written guarantees that the First Nations would receive freedom of choice in religious matters. Although Prime Minster Sir John A. Macdonald stated that this freedom of religion would be granted, Grandin remained wary of the government's intent.
The bishop is not the only famous figure related to the neighbourhood of Grandin. During the 70s, a resident named Don Clark built a large concrete boat in his driveway. Dubbed "Clark's Ark," the 46-foot behemoth took four years to complete, after which time it was towed to the Pacific Ocean.
There is another very famous name tied to the Grandin community. When the United Church opened its doors in 1957, the first organist was none other than St. Albert's very own Lois Hole. Known for her business acumen, gardening expertise, and kind heart, Lois was an Alberta Lieutenant Governor, author, wife, mother, and commercial greenhouse owner. She is commemorated and remembered with many landmarks that bear her name, including the Lois Hole Hospital for Women and a branch of the Edmonton Public Library.
Some famous faces have come out of Grandin, but what is more important is that everyone that lives in the neighbourhood feels like the special and prominent person they already are.