Erin Ridge North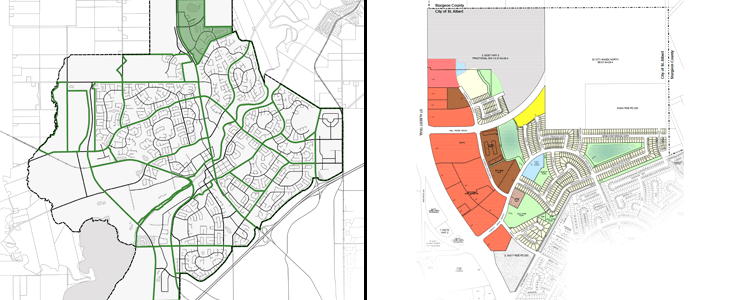 Erin Ridge, one of St. Albert's newer developments, approached capacity in the 2000s, prompting additional annexation on the northern side of the city. This was the start of Erin Ridge North, a small but growing neighbourhood on St. Albert's northernmost tip. This neighbourhood is characterized by a strong focus on accessible commercial services and sustainable/green residential homes.
Erin Ridge North had a population of ~2,085 in 2018 and ~1,292 in 2017, which shows the rapid growth of this neighbourhood as it continues to develop. The community is highly attractive to young families, as the average age is a young 34.60.
A large commercial corridor sits to the west of the community, and a mix of low, medium, and high residential zoning provides plenty of housing options. Parks and greenspaces are spread throughout, and the Lois E. Hole School sits in the centre of the community. Despite minimal access to public transit in this area, noise levels are low, and the streets are quiet and calm.
About Erin Ridge North
---
Year Developed: 2007
Type of homes: Single-family homes, condos, duplexes, townhomes
Parks in the area: Everette, Coal Mine
Schools in the Area
Elementary:  Lois E. Hole, Joseph M. Demko
Junior High: Joseph M. Demko, Lorne Akins
High School: St. Albert Public Outreach High School, Paul Kane (for French immersion only)
Characteristics
Lots of public spaces, large parks and green spaces, recreation areas, lakes and tree-lined walking paths.
Close to shopping
Newer community with a young population
History
Development of Erin Ridge North started in 2007. Unlike its neighbour, Erin Ridge, the newer community has a much stronger focus on commercial development and includes more medium and high residential zones.
Filling up with a young population that desires to live in sustainable communities, Erin Ridge North is where you'll find a concentration of energy-efficient homes. Another feature of this modern development is its emphasis on green spaces, it's walkability/ease of access to services like groceries and childcare, and it's quiet, pleasant streetscapes.
The population of Erin Ridge North is expected to continue to swell, but thanks to a very well-planned neighbourhood, it will remain a serene, close-knit community filled with amenities young families love.