Downtown St. Albert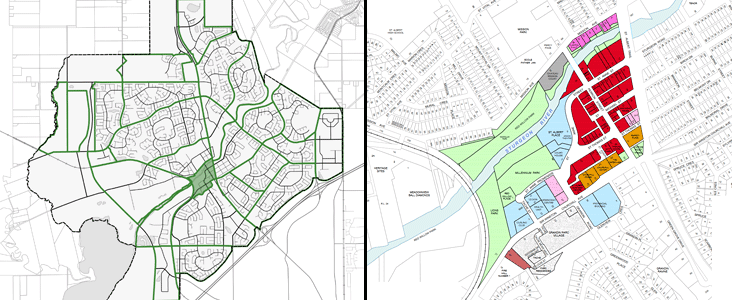 The neighbourhood of Downtown is located in the centre of St. Albert, along the south bank of the Sturgeon River. The Downtown area is one of the oldest communities in St. Albert, with the majority of the residential multiple family development occurring since 1980. Downtown has been designed with easy travel in mind, becoming somewhat of a pedestrian hub between the Celebration Garden, Millennium Park, and the great amenities found at St. Albert Place, including City Hall, the Arden Theatre, the St. Albert Public Library, and the Musée Héritage Museum. Another great feature of Downtown is the Art in Public Places movement, which positions stunning visual treats around Downtown for people to enjoy while walking.
Located in the heart of downtown, St. Albert Place is the focal point of many community events and activities. St. Albert's historic downtown is the very heart of our community. It is the place where much of our community building takes place, where our community spirit comes alive, and where our community gathers to celebrate our many special events.
Downtown is largely a commercial district; ~540 residents with an average age of 64 live in the area, making Downtown the only St. Albert neighbourhood to have more than half of its residents comprised of retirees.
The Downtown area only has one school within the direct vicinity: Ecole Father Jan Community School. This Catholic elementary is the only French immersion primary school in the separate school system and offers French immersion classes for grades K-6, a sports academy program for grades 4-6, a full day everyday Kindergarten, and a full day alternating Kindergarten.
About Downtown
---
Development Began: 1940s
Type of homes: Condo/Apartment Style Homes
Parks in the area:  Millennium Park, Lions Park, Red Willow Trail, MacMillan Park
Community Amenities: St. Albert Curling Club; Red Willow Place (St. Albert's 50+ Club); St. Albert Community Hall; Cornerstone Hall (Royal Canadian Legion)
Schools in the Area
Elementary:   Ecole Father Jan
High School: St. Albert Public Outreach High School, Paul Kane (for French immersion only)
Characteristics
Easy access to Red Willow Trail System
Lots of shopping and dining opportunities
Home to the St. Albert Farmers' Market, Western Canada's largest outdoor Farmers' Market; Canada Day festivities; and the Northern Alberta Children's Festival
Senior/retired population
History
The beginning of the 20th century saw the rapid development of St. Albert's downtown. Before the First World War, St. Albert's downtown core included a bank, hotels, general stores, farm implement dealers, a blacksmith, liveries, a drugstore, a butcher shop, a clothing store, and restaurants. The development of housing began in the downtown during the 1940s.
Perron Street, as it is currently known, was originally named Piron Street in honour of France's Piron family, who donated the bells for the St. Albert Mission. In 1967, it was renamed for Fleuri Perron, who opened the first commercial industry in St. Albert, Perron Brickyard, providing employment for 20 men. The Brickyard was in operation until 1932.
Perron played an important role in the development of St. Albert. In 1904, he went into partnership with Cheri Hebert when he bought a general store on the north of the bridge. In 1908, he became the sole owner and continued this business until a fire destroyed the building in 1919.
Perron was active in municipal affairs, and in 1898, his signature appeared on a petition sent to the Development of Public Works in Regina protesting the incorporation of St. Albert as a village. In 1904, he served on the Town Council and in 1908, he was elected St. Albert Mayor. During his administration, a large flour mill was built in St. Albert; however, it burned down in 1938. He is also remembered for operating a 30-foot excursion boat on the Sturgeon River and Big Lake in 1912. Later, it was sent to Lac Ste. Anne due to lack of water in Big Lake. Fleuri Perron's house, which he built in 1901, still stands in St. Albert on Mission Avenue #10. He died in St. Albert in August 1931.